Minnesota Cavaliers
Pet quality vs. Show quality?
There is very little physical difference between our pet quality puppies and our show quality puppies. However, pet puppies are NOT sold for breeding, period. They must be spayed or neutered by age 9 months in order for the extended health guarantee (detailed below) to be valid, and AKC papers to be issued to the buyer. Show/breeding prospect puppies cost SIGNIFICANTLY more than pet puppies, and we screen potential show homes, references are required.
OUR HEALTH GUARANTEE
All puppies are guaranteed, by law (MN Pet Lemon Law, which governs the MANDATORY health guarantee of all puppies sold in MN), against any hereditary/congenital defect for one year from the date of purchase. In addition, we guarantee puppies against SM (syringomyelia) for three years from date of purchase, and against debilitation/death from MVD (mitral valve disease) for five years from date of purchase. Contact us for more information about mandatory health screening of adult dogs used for breeding.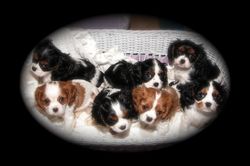 Karen Fergus -- AKC recognized BREEDER OF MERIT
Many thanks to my nieces/assistants, Nichole Vincent and Haley Astedt, my friend and dog sitter Sharon, and to Rachel and Bev, my friends, travel partners, master groomers, and co-breeders. Our breeding and show program is a group effort, and EVERYONE contributes their expertise and knowledge to make it a success.
(952)492-2863//(952)215-2150-cell
www.cavalierheaven.com www.tntchin.com