Nursery News
Information on our most recent puppies
Please feel free to contact us for more information and availability of puppies!
UPDATED September, 2017
***puppies are all in their new homes*** Litter coming late Fall, 2017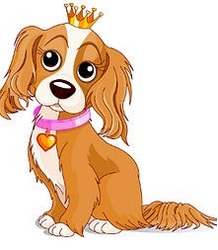 **************************
************************************************************
The picture below shows all four colors in one litter. This RARELY happens, especially in a litter of 4 puppies total. In order to have a four color litter like this, one parent must be a parti color (blenheim or tri color), and one parent must be a whole color (black/tan or ruby), and both parents must carry the parti color gene. If either parent is black dominant (tri color or black/tan) there cannot be all four colors in the litter, the same if neither parent carries the black gene (ruby and blenheim), and the breeder won't know until the puppies are born. The only sure thing, color wise, in cavaliers, is that if both parents are blenheim, all the puppies in the litter will be blenheim. There can be many surprises in every litter of puppies born, which is part of the fun of breeding cavaliers!